About the Episode
Deepa Goyal got excited when she saw her first API product and has been working in API products ever since. She's worked for companies like Twilio and Paypal and is now Product Strategy Lead for Postman. She was disappointed at the lack of PM-specific resources, so decided to solve this with her new book "API Analytics for Product Managers". We spoke about API product management in general, and what it takes to be successful with API products.
Episode highlights:
1. APIs are technical but there's a user-centric way to explain them
APIs at their heart are simply the way that different applications talk to each other. For example, Uber talking to Google Maps or talking to PayPal. They enable seamless integration of a product ecosystem.
2. Yes, APIs need Product Managers (even internal APIs)
It's important to have a customer-centric approach & strategy for APIs. You need to make sure that they're discoverable, useful & provide value. This is also true for internal APIs... internal users are your customers too!
3. There are definitely differences when managing API products
For example, you can't track people's user journeys as easily. You often don't have the same visibility. It can also take a long time to go from initial discovery to actually receiving value from your product.
4. It's important to define API product value and measure it
Sometimes value is obvious and sometimes it's not, but it's important to define what "value" means for your users (it's probably not just "number of API calls") and work out ways to measure that so you can optimise it.
5. There are differences in API product management, but your basic job is the same
You're still speaking to users, focusing on their use cases & delivering value. The way that you express this may be different but, ultimately, an API product manager is still a product manager!
Buy "API Analytics for Product Managers"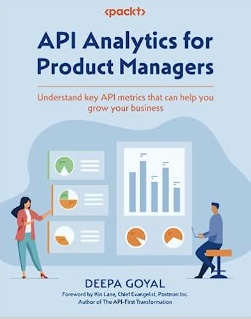 "API Analytics for Product Managers takes you through the benefits of efficient researching, strategizing, marketing, and continuously measuring the effectiveness of your APIs to help grow both B2B and B2C SaaS companies. Once you've been introduced to the concept of an API as a product, this fast-paced guide will show you how to establish metrics for activation, retention, engagement, and usage of your API products, as well as metrics to measure the reach and effectiveness of documentation—an often-overlooked aspect of development."
Check it out on Amazon.
Contact Deepa
You can connect with Deepa on Twitter or on LinkedIn.