A message from our sponsor
Do you struggle with communicating with dev teams and understanding technical terminology and concepts? On episode 98, I hosted Irene Yu, founder of Skiplevel, an on-demand training program that helps professionals and teams become more technical in just 5 weeks... All without learning to code. Learn the knowledge and skills you need to better communicate with devs and become more confident in your day-to-day role with the Skiplevel program. Go to Skiplevel.co and use code OKIP75 to get $75 off the program by 15th June, 2022.
About this Episode
An interview with Nicole Reineke. Nicole is a strategist and author with 75 patents to her name. She wanted to help others unlock the innovator within them and wrote "Compassion Driven Innovation" with a cross-functional group of co-authors. The book aims to give business owners and product leaders a proven methodology to defeat the Innovator's Dilemma and get the best innovation results.
We speak about a lot, including:
Some of the early reception for her book, how people have started to adopt it and use in within their organisations, and how she wrote it very cross-functionally with 2 co-authors from different fields
Why she needed to "write the book she needed to read" after having been granted 75 patents and realising that there was a method to drive true innovation
How she started off researching a number of companies to work out the four core root causes of innovation failure: Exclusivity, Missing the most pressing challenges, Overestimated value and Unsupported moon shots
How this book tackles some of the gaps left behind by the classic Innovator's Dilemma and offers innovators a way to solve it
The tale behind the compassion driven innovation methodology, how can it help mitigate the 4 different types of innovation failure, and the 4 stages of the compassion driven innovation process: Include, Discover, Enlighten & Activate.
The importance of transparency and openness, using artifacts to ensure everyone knows why decisions are being made, and having political nous to make sure you get buy in and nip dissent in the bud
Why it's essential to be able to pivot based on new information or data throughout the innovation cycle, not falling in love with your ideas and the perils of discovery theatre
And much more!
Buy Compassion Driven Innovation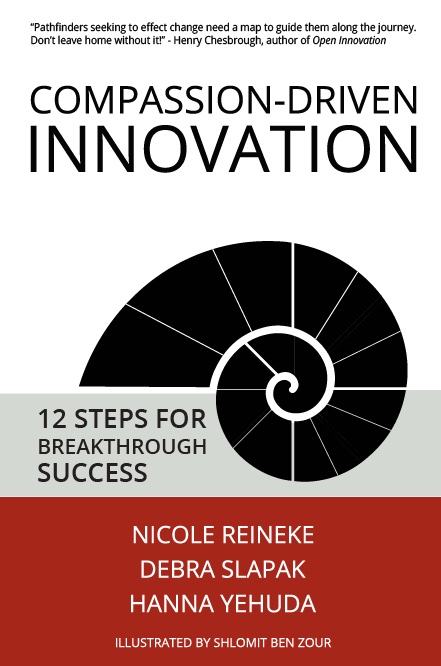 "This book is for pathfinders— product, services, business, and nonprofit managers searching for ways to reach beyond the artificial barriers that constrain innovation and make "work" harder. Inspired by real life trailblazers and their own experiences, the authors decode the secrets of achieving breakthrough success at both organizational and interpersonal levels. Learn to use their methodology with the help of checklists and detailed examples that will transform your thinking and skills."
Visit the book website or check it out on Amazon or Goodreads.
Contact Nicole
You can find Nicole on Twitter or LinkedIn