<< Return to main page

Here's a list of old episodes in date order! There have been some great conversations so feel free to binge them all!
<< Back to main page

Episode 76 - Finding a PM Superpower and Using your Product Sense (with
Peter Knudson & Braxton Bragg

,

Authors "Product Sense"

)

Authors

Getting into Product

Product Principles



Episode 76: Finding a PM Superpower and Using your Product Sense
Peter Knudson & Braxton Bragg, Authors "Product Sense"
18 Aug 2021
18 Aug 2021
About the Episode
An interview with Peter Knudson & Braxton Bragg. Peter & Braxton are co-authors of new book "Product Sense", with which they hope to help the next generation of product managers discover their product superpower and land that next big product management role.
We speak about a lot, including:
Their shared history as product managers in the gaming industry, why Peter stayed in it and why Braxton spread his wings
How the book has been received, how they took an iterative approach to book writing, and why they decided to write a book together in the first place
How the book is different to some of the other classic "get a product job" books and whether it's a compliment or a replacement
The importance of bringing your authentic self to product manager interviews, and whether it's ever OK to fake it till you make it
How they define product sense, whether everyone already has it, and whether people who don't have it can be taught it
The concept of a product manager superpower, being T-shaped, and using your expertise and passion to stand out from the crowd
Why they created the Compass Framework, why it's needed and how it helps give a structured response to interview questions
Whether you need an MBA to be a product manager, whether it's totally unnecessary, and how in either case it can be very tricky to get into product
And much more!
Buy Product Sense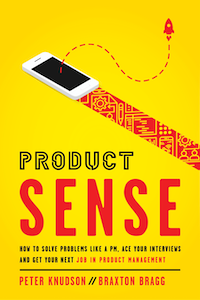 "Product Sense is a comprehensive and accessible, guidebook for what it means to solve problems as product manager, and ace complicated PM interviews."
Visit the book website or check it out on Amazon or Goodreads.
Contact Peter & Braxton
Copyright © 2020-2023 One Knight in Product