About the Episode
An interview with Ramli John. Ramli is the Managing Director of ProductLed, the Robin to Wes Bush's Batman, and the author of "Product-Led Onboarding", a book that aims to shine a light on getting users to value sooner and ensuring you retain them long term.
We speak about a lot, including:
The mission behind ProductLed, and how the pandemic has really focused people's minds on ensuring their tools are seen as valuable
What the Managing Director of ProductLed does, and whether he's really the Robin to Wes Bush's Batman
How Ramli went from studying mathematics & being an analyst for a massive FMCG company into marketing & product-led growth, and why it excites him so much
Why we needed a new book dedicated to Product-Led onboarding given that it was covered in Wes's book originally, and what publishers said when they pitched it
Why he put his personal email address in the front and back of the book for queries, and how much spam he's received since he did that
The importance of first impressions when it comes to product onboarding, and ensuring quick time to value to drive retention
Who owns product-led onboarding, whether it matters, and the importance of true cross-functional teams
Why product-led onboarding is more about free trials and guides, and more to do with an obsessive focus on user success, and why you need to define what that "success" really is
The EUREKA framework the book proposes to help you establish your onboarding team, understand, refine and analyse (and whether he came up with it in the bath)
How time to value can actually be too short and some of the things you can do about this
Whether product-led growth is truly anything new, or just a buzzword to sell attractive yellow books
And much more!
Buy Product-Led Onboarding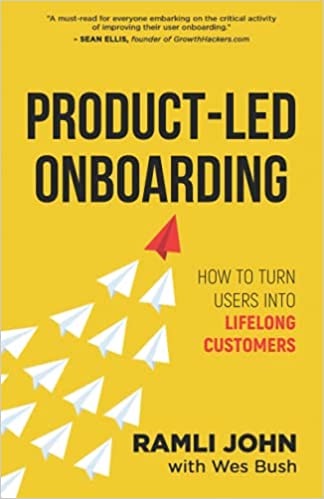 "Just like dating, your company's growth depends on first impressions. If their first date with your product is anything but silky-smooth, you risk losing out to the competition. Add to that a few, unfairly poor reviews and you'll be more than just stuck. In this book, you'll learn the simple 6-step strategy used by giants like Mixpanel, Ubisoft, and Outsystems that will get you more loyal clients in a fraction of the time."
Visit the book website or check it out on Amazon or Goodreads.
Contact Ramli
You can contact Ramli on Twitter, LinkedIn or productled.com.
More from ProductLed
If you want to hear Wes Bush's interview on this very podcast, why not check out Wes Bush's interview on this very podcast?