About the Episode
Uri Levine is a 2x 'Unicorn' Builder (Duocorn) who co-founded Waze and is a former investor and board member in Moovit. Uri recently published his book, "Fall in Love with the Problem, Not the Solution". We talk about some of the themes from the book as well as some stories from his own career.
A message from this episode's sponsor - My Mentor Path
This episode is sponsored by My Mentor Path. I'm a passionate advocate for mentoring, and believe it to be one of the highest-leverage activities you can undertake to get ahead in your career. I try to do my part, but am but one man, so I helped set up this FREE mentoring community to try to help out at scale. Sign up now as a mentor, a mentee, or both!
Episode highlights:
There are no right or wrong decisions, only the decision you make right now
Uri is often asked if selling Waze was the right decision, but you can only make decisions based on the information you have. It's more important to make a decision than wait for the perfect decision.
Find a problem you care about, but you are a sample of one
You should be passionate about the problem you're solving, but don't assume that anyone else cares as much as you do or wants to solve it the way you want to. You have to get out & speak to people who have the problem
If you're afraid to fail then, in reality, you already failed
When you're building something no one has built before, you never know if it'll work. You need to experiment, fail fast and have multiple shots on goal. The faster you fail, the sooner you can have another shot.
Product/Market Fit does exist & it is measurable
If you're not creating value, people won't come back. Retention is the most important way to measure P/MF & make sure that the solution to your users' problem is actually valuable. Getting people to value quickly is essential.
B2B & B2C product management share the same goals
You might have different customers who care about different features, but they all care about something. The metrics might differ, but the ultimate goal is to deliver value & solve a real pain for all these different people.
Buy "Fall in Love with the Problem, Not the Solution"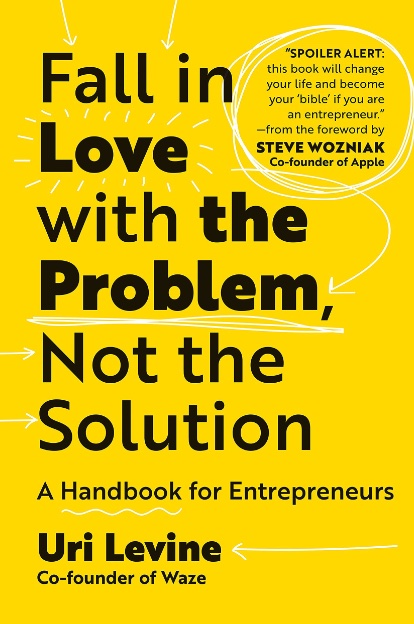 "Fall in Love with the Problem, Not the Solution offers mentorship in a book from one of the world's most successful entrepreneurs, and empowers you to build a successful business by identifying your consumers' biggest problems and disrupting the inefficient markets that currently serve them."
Check it out on Amazon.
Contact Uri
You can visit Uri at his website UriLevine.com or follow him on Twitter.